A while back, when I was still learning my way around an Easter ham, I decided to head in an Eastern direction...
Asian food.
Pork.  Pork.  Pork.  Pork.  Ham.
Yes?
I cubed a cup of ham.... and now that I'm nearer to the bone, it's no longer spiral-sliced, so I can cut thicker cubes.  I took about half a head of cauliflower, separated and cut it into small florets.  Then I chopped a small onion.  Minced 4 cloves of garlic.  And got out bottles of soy, sriracha, and sherry.
In a very hot wok, I heated some peanut oil, tossed in the cauliflower and let it start to brown.  Then I lowered the heat, put a lid over the wok... and cooked it until it started to soften but was still quite crisp.  Then I set the cauliflower aside in a bowl.
I added a bit more oil, turned the heat way up again, and stir-fried the ham cubes until they started to brown... then added the ham to the cauliflower.  By now there was some oil in the bottom of the bowl, so I poured that into the wok and stir-fried the onion until it started to brown, tossed in the garlic, tossed in the ham mixture... added a good shot of soy, and sriracha, and sherry... and let it all stir-fry for a minute or two.
Because I wanted it a bit thicker, I tossed in a slurry made from a tablespoon of cornstarch and 2 tablespoons of water.  This rich, gorgeous sauce thickened immediately, and I spooned portions on top of some brown rice... topped it with sliced scallions...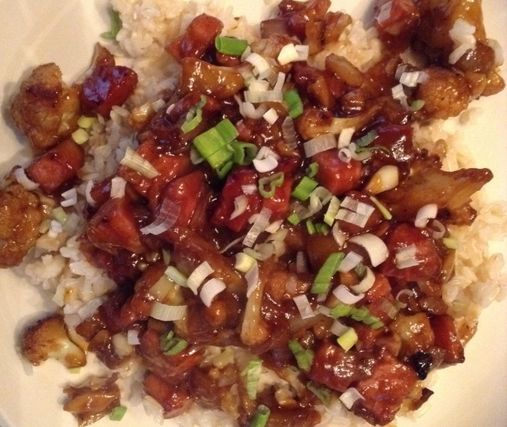 And this year's Easter ham rolls on!  This dish is incredibly flavorful, you won't need a huge portion...
And you won't be hungry half an hour later!!!
PS.  We're now down to just over $3 per meal... and $1.50 per serving.