This is one of those dishes people write to me about all the time!  You got this... I've even laid out my learning curve so you can see where you'll go with just a little practice.  Enjoy!
So I froze the hambone, knowing full well that there was still plenty of recoverable meat...
And today I decided to recover it...
I thawed the bone, stripped the remaining meat, and cut it into very small dice. Then I made a very basic velouté with butter, flour, and chicken stock.  Off the heat I added a tablespoon of Dijon, a cup of shredded cheddar, a cup of frozen peas that I'd thawed in hot tap water, and the ham.  And...
OMG... I could eat this mixture by the spoonful!!!
But I won't, because I also made a batch of basic savory crêpes.
(N.B.  The link below will take you to a good how-to on the process, but - be kind - I've learned a lot since 2012!)
https://thisoldchef.com/blogs/blog-recipes/posts/time-machine-chicken-crepes
I rolled each crêpe around a heaping tablespoon of the filling, then placed them all in a buttered baking dish.  I had reserved about 1/2 cup of the velouté (without the ham and peas), and thinned it with another 1/3 cup of the stock.
I poured it over the crêpes, topped it with a bit of Parmesan, put it under the broiler for a few minutes until browned and bubbling, then turned off the broiler, turned the oven to 350°, and heated it all for about 15 minutes.  I served it with a shower of chives and chive blossoms.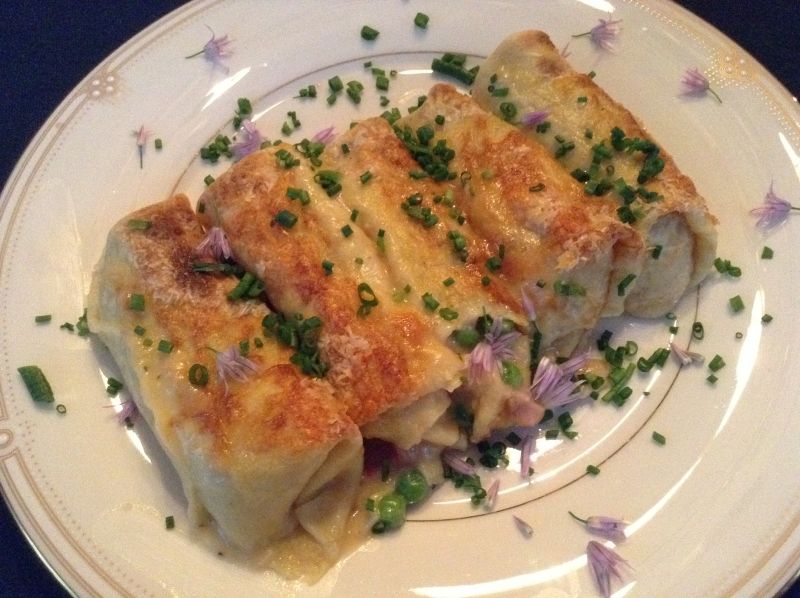 This is the Easter that keeps on giving!  These crêpes were incredible...
And of course, this rich, flavorful ham now costs about $.50 a serving... and I still haven't made soup!!!