Warm up the bowls for this Hamapalooza Flashback!
With the cool, wet Spring going on this May (we had a fire in the fireplace last night!), I'm reminded of one more blessing from Easter 2018...
Ham Chowder!
I've never really been a big chowder fan because... wait for it...  I don't like clams.  Mea Culpa!  I just don't.  But I love ham and potatoes and bacon, so I thought maybe a different kind of chowder was worth trying...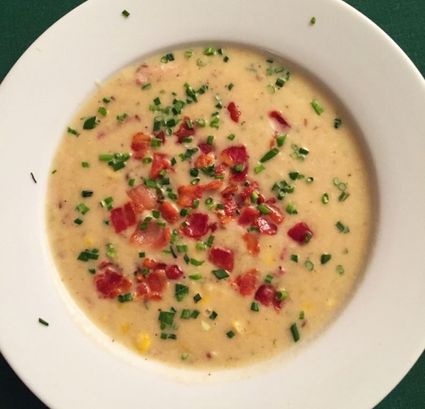 I trimmed and chopped about 1½ C of the Easter ham, sautéed it in some EVOO until it started to crisp, and set it aside.  Then I chopped 4 rashers of bacon, sautéed those until crisp and added them to the ham, and then returned the rendered fat to the pan.  In the fat, I sautéed some chopped onions and celery until soft.
Now it gets strange.  Really successful, but strange.
I had some colcannon in the fridge...
https://thisoldchef.com/blogs/bonus-recipes/posts/colcannon
Chowder often has a potato component... ergo... I added the colcannon to the sautéed vegetables, loosened it with some stock (though water would be fine), and cooked it all for a bit until everything seemed soft.
Then I puréed it all with an immersion blender... added some cream... and the ham and bacon... and a handful of frozen corn...
Tasted.  Added salt and pepper.  Ladled the chowder into hot bowls.  Topped it with a shower of chives.
Now there's a chowder I can get behind.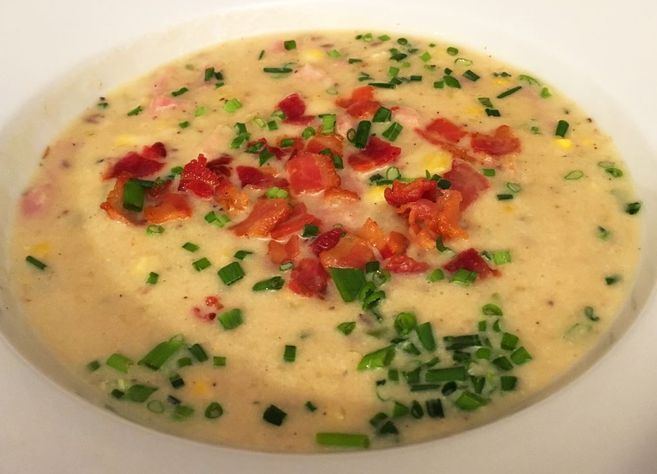 Next time I might add some caraway.  Or some hot sauce.  Or some... the list goes on.
I love this soup.  So, if Spring is still cool where you are, or if you spend your summers in air-conditioned splendor...  Don't wait!